The story behind champion Novak Djokovic's T-shirt and celebrating family
When Alexandra Munro got a late night call to design a commemorative T-shirt for the men's Australian Open final, her frantic midnight effort resulted in the T-shirts being worn by champion Novak Djokovic's celebrating family.
Munro, a small business owner from Melbourne, was overwhelmed with excitement when asked to design the 'Team Djokovic' T-shirts that were worn by the champion's inner circle, including his uncle Goran Djokovic and mum Dijana Djokovic, shortly after he won.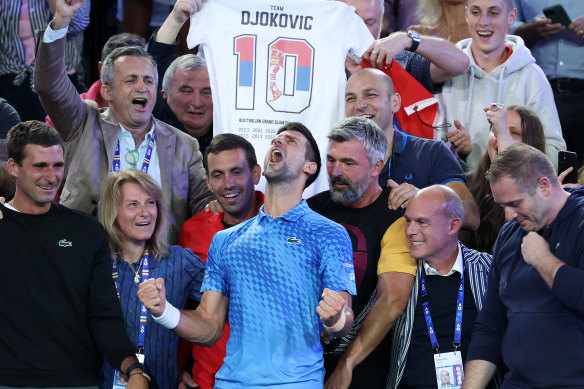 The distinctive white T-shirt featured the number 10 with a Serbian flag design on the front and back, symbolising 10 Australian Open grand slams.
"Seeing them pull the T-shirts out and just so proudly put them on, I was just like, wow, what an amazing moment," said Munro, owner of the Mornington Peninsula-based business, Death By Zero.
The opportunity to design and print the T-shirt was a chance ask by Melbourne restaurant owner and friend of the Djokovics, Stefano Rassu, who footed the bill as a gift to the family that he's known for the past eight years.
"I was thinking if he doesn't win – because we put 10 and 2023 in the design – they're going in the bin. But, I was pretty confident he was going to win."

Small business owner Alexandra Munro
"They [the Djokovics] used to come to my restaurant in Melbourne, Pomdoro Sardo, for eight years," Rassu said."They are very simple and humble people."
Novak himself has also dined many times at the restaurant that closed a few years ago.
However, making the T-shirts was a frantic midnight task for Munro, who bought the business three months ago and has only one full-time employee.