Fiverr's Marketplace For Designs And More Is Reaching Maturity (NYSE:FVRR)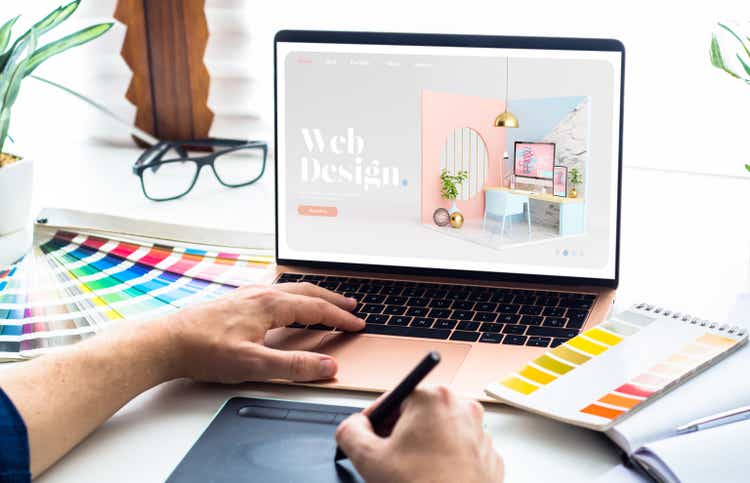 Fiverr's (NYSE:FVRR) business is straightforward. The company has built a marketplace where freelancers can offer a range of different services from web design, video editing, and copywriting. This drives gross merchandise value that has a service fee charged to it. Critically, by making the process for buying services as streamlined as shopping on Amazon or eBay, Fiverr creates genuine value for both buyers and freelancer sellers. For example, business buyers can quickly appraise services from a range of freelancers on a single platform versus the traditional method of writing and putting out a job description then screening, interviewing and shortlisting applicants before final contracting. Sellers can build an online presence which functions as a resume to bring in customers versus having to chase leads, write proposals and bid for work they may not win.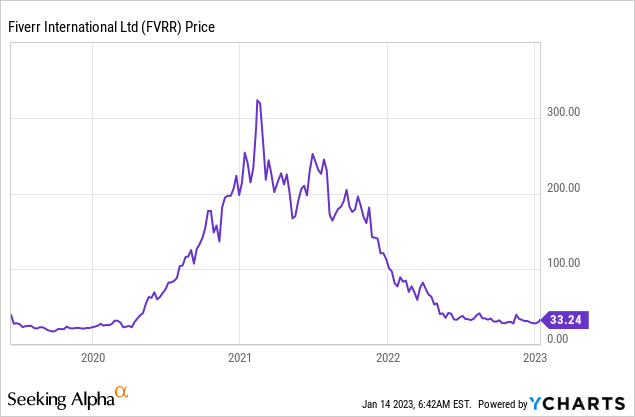 I covered Fiverr immediately before the pandemic in Fiverr: Investing In The Meme Economy. The company has since then had the most dramatic ride as stay-at-home orders sparked a freelance boom to drive revenue and its commons to new highs. It's now as though the last few years never happened with the commons down 63% over the last 12 months and with growth slowing.
The Next Few Years Of Growth
Fiverr last reported revenue of $82.5 million for its fiscal 2022 third quarter, a growth of 11% over the year-ago comp and a beat of $1.36 million on consensus estimates. Whilst revenue was down sequentially from $85 million in the second quarter, the double-digit year-over-year growth in spite of the strong comps came on the back of an increase in active buyers and spend per buyer.
Active buyers grew to 4.2 million, an increase of 3% over the year-ago quarter. However, the growth trendline for active buyers has essentially flatlined over the last three quarters and is tracking to be relatively flat over the 2021 fiscal year. This comes against spend per buyer that was up slightly during the quarter, growing by $3 over the second quarter and a larger 12% increase over the year-ago comp.
This growing spend per buyer, defined as trailing 12-month GMV divided by active buyers, has been the main driver of growth for Fiverr. The company's marketplace is reaching relative maturity and the ability to extract higher GMV is key for future growth, profitability, and shareholder value creation. This will come from offering higher-priced services with Fiverr Pro, the company's premium marketplace, to nudging freelancers away from race-to-bottom pricing. The company's name once alluded to the $5 gigs that used to be commonplace.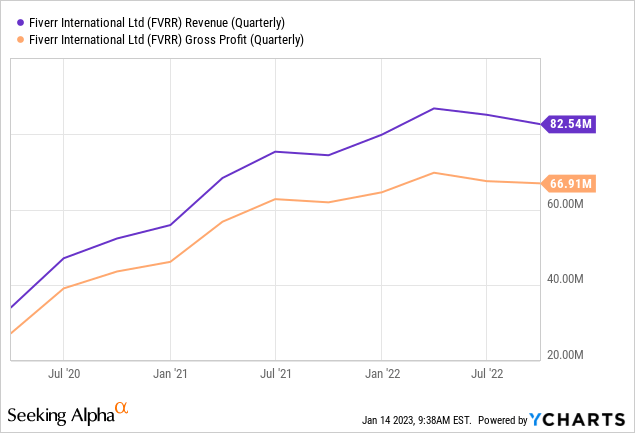 Non-GAAP gross profit margin was material at 82.6%, a SaaS-like profile that drove gross profit of $66.91 million during the third quarter. This was up by 8.08% from $61.9 million in the year-ago quarter and was bolstered by a take rate of 30%, up by 160 basis points from 28.4% in the year-ago period.
Bears would point out that gross margins declined from 84.4% in the year-ago quarter and that adjusted EBITDA during the quarter at $6.6 million was down also from $7.3 million in the year-ago comp. This is the opposite direction from management's vision set out during the third quarter's earnings call for a radically more profitable company with an adjusted EBITDA margin of 25%.
Disruption And Opportunities
Fiverr's long-term vision for the future of work would see its platform fully integrated into digitally native fully remote teams who form a new generation of agile 21st-century companies. The company is entering a new phase of growth. This will be a slower more considered one where efforts to boost GMV and take from boosted gigs to Seller Plus, which provides enhances selling features across two tiers for freelancers, will drive incremental growth and profitability even as active buyers flatline.
The company laid off 60 employees at the start of the first month of its third quarter and has constrained its marketing and overall operational expenses. Hence, the future quarters should see the savings from these start to filter heavier through to its margins. Fiverr provided full-year guidance for 2022 with revenue expected to be in the range of $334 million to $340 million. At the top end of this range, this would be a growth of 14% over fiscal 2021. This would also mean a 3.6x forward price-to-sales multiple. Whilst this is around 287% higher than its peer group median, Fiverr is a significantly more profitable company with gross margins that are 125% higher than its peer group and with a levered free cash flow margin of 14.87% versus 1.3% for its peer group. The company's free cash flow generation is a strong vote of confidence for the current operational structure, which is being streamlined further by current cost-cutting initiatives. I'm neutral on the company but it could be worth some consideration if margins increase further as current double-digit growth is maintained.