'Babylon' team on designing Damien Chazelle's ambitious Old Hollywood vision: "It was high octane" | Features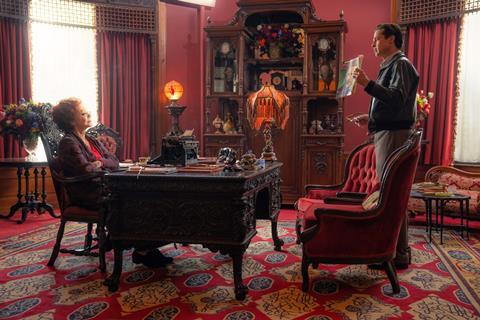 Production designer Florencia Martin is visibly moved when she remembers a note she received from one of the stars of Babylon — Diego Calva, who plays aspiring studio executive Manny Torres. "He sent me a beautiful message congratulating the team," she says. "He said he had been so immersed while making the film, that it wasn't until he saw the film and saw the immense scale of everything we created that he was so moved and thankful of everyone's work. That makes me very emotional because it's his first time making such a big epic, and mine as well."
Indeed, Damien Chazelle brings to life his epic vision of 1920s Hollywood in the Paramount-backed film, with the help of hundreds of top craftspeople. Babylon is his biggest­-scale film yet — including 120 locations, 7,000 costumes and a scene with 700 extras.
The vision all started with Chazelle's script — based on ideas he had been mulling for 15 years — about the rise and fall of multiple characters during an era of unbridled decadence in early Hollywood, during the transition from silent films to talkies. "I just had to dive in, I couldn't help it," recalls Martin. "He wrote such a rich world that you can imagine as you're reading it and that was what kept us going. The whole team was energised to jump in and create it."
Costume designer Mary Zophres, who worked with Chazelle on First Man and La La Land, says Babylon "was a dream job, it was high octane".
She was thinking about the film for nearly a year and a half, even if there were just 12 weeks of formal preparation work before cameras rolled from mid-July to late October 2021. "We were working before we started on payroll because it was this labour of love we wanted to do," says Zophres. "It was so intense and so huge that any work I did ahead of time benefited me in the end."
Chazelle asked all his heads of department to move past what they thought they already knew about the period. "His challenge was that he wanted us to avoid clichés of the 1920s," Zophres recalls. "It wasn't just because he wanted it to be different. It's the grittier side of Los Angeles, the streets were not even paved. And there was a sexual freedom as a result of the repression from years before. So he gave us this edict, 'Let's find things that you haven't really seen before.'"
Chazelle showed the key heads of department inspirations such as DW Griffith's Intolerance, Federico Fellini's La Dolce Vita, Roman Polanski's Chinatown, Wong Kar Wai's In The Mood For Love, Orson Welles' Touch Of Evil and Bob Fosse's Cabaret. He also shared a series of "notebooks — visual bibles — of how he was thinking about the film", recalls Martin. "They were so informative because they showcased the fervour he was trying to create and the intensity of the image. That showed the bar we were setting, and then I would have my own research that was tonal and moods and character-driven. And of course we had a research team for the details of the period and accuracy."
Martin, whose credits include Licorice Pizza and Blonde, needed to create looks that ranged from stark poverty and desolate desert scenes to opulent mansions and decadent parties.
The debauched party at the start of the film used the lobby of The Theater at Ace Hotel — originally built as the United Artists Theater, in downtown Los Angeles — as the mansion ballroom of a studio executive. Shea's Castle in Palmdale, California was used for the exterior (with the production team adding its own facade and entrance), and the basement of the Los Angeles Theatre as the party's drugs den where Manny and aspiring actress Nellie LaRoy (played by Margot Robbie) bond.
"We needed to find an interior that was incredibly lavish and detailed, and then find an exterior that was barren and desolate, because in this era they were building these castles in the desert," explains Martin. "It was all done as much in-camera as possible without any green-screen."
Most of the party decor was in cream and gold, and director of photography Linus Sandgren "wanted a beautiful golden light so that you feel cocooned — so Mary ramped up the colour in the clothing", says Martin.
Indeed, Robbie wears an instantly iconic red strappy outfit. Zophres knew that Nellie would be the only character in red at the party. A photo of early Chinese-­American film star Anna May Wong wearing a scarf that she had wrapped around herself was the first inspiration, and also images of 1920s actress Clara Bow, who had started as a dancer and would wear tap shorts under her skirts.
The outfit had to be authentic to Nellie's limited means and her aspirational mood. "She wouldn't have owned anything super fancy, but she needed to be noticed," explains Zophres. "She went to that party with a motive to be discovered. In my mind, it was something she cobbled together — 'I'm going to wear this tap pant and tie this fabric around my hips and I'll get away with it.'"
The costume designer, a frequent Coen brothers collaborator, jokes that Robbie's outfit is an "engineering masterpiece" that was created from only about a yard of vintage red embossed silk satin. They made sure, during many weeks of movement rehearsals on the Para­mount lot, that Robbie would be able to dance in the outfit. She had to do more than 100 takes of the party's dance number over nine days of shooting to get the coverage Chazelle needed.
"She is such an incredible costume designer," Robbie has said of Zophres. "We had a great collaborative conversation about how my body shapes and physicality would be altered by the clothes I was wearing."
Archive images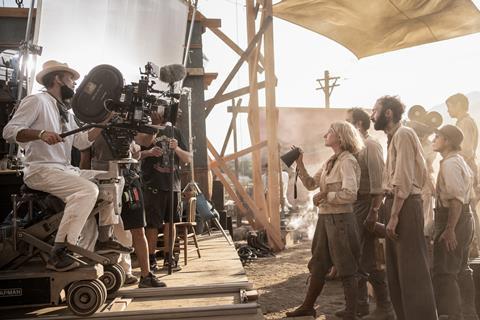 For production designer Martin, census photographs from 1920s Los Angeles proved important sources of research, depicting homelessness and poverty "at levels you wouldn't expect for this glistening new city". She also studied the work of Magnum photographers and Paramount's archival images — which helped inform the accuracy of the film sets, even down to the kind of timber that was used.
A particular standout sequence is at the outdoor Kinoscope Studios, which Chazelle's team built in a dirt field in Piru, California. It comprised of six active shooting sets, seven background sets and two circus tents — where, in Babylon, multiple silent-film productions are all shooting at once.
"We wanted to celebrate that cacophony and kinetic spirit that they would literally steal actors from one set and bring them onto another," explains Martin. "They weren't recording sound, so it was this hectic mayhem everywhere." Building those sets took six weeks before cameras started rolling.
The colour palette for the film was about contrasts — "a barren, dry, arid exterior and then coming into jewel-toned and dreamlike set pieces", says Martin. As Chazelle has explained: "We joked that we wanted to feel like Sergio Leone outside, and then Visconti inside."
"We sourced a lot of antiques [for the interiors]," says Martin, and the department worked closely with Pasadena­based Revival Antiques, which custom­made replica 1920s light fixtures and upholstery. The firm used antique fabrics where possible but also collaborated with manufacturers such as design house Scalamandré, which utilises vintage prints and patterns.
"It was about sourcing antiques because that's also like the fantastic history of the United States and of Los Angeles, that everyone's bringing that wealth from collections in Europe," explains Martin. "This is the early story of Los Angeles, constructing and fabricating everyone's vision of what they thought would showcase their wealth or passions. You have all of these different styles, side by side, and that spoke to our characters and spoke to the world we were trying to create."
Under the skin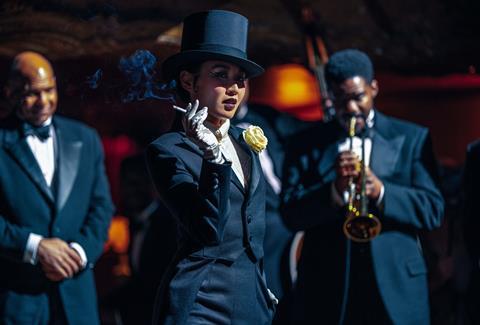 "I've never done a film this big, but I think they've all been preparing me for the scope of this," says Zophres. "It's huge but I wasn't scared by it. I just tackled it head on, one step at a time." She also knew from past collaborations that "Damien is a great communicator, and so well prepared himself that he can explain things clearly".
With that guidance in mind, Zophres broke down each character and each costume change — not an easy task when Nellie, for instance, has 35 outfits.
She tried to delve into a character's mindset when thinking about costumes. "It's such a character­driven script, I wanted to take the written word and turn it into three dimensions," says Zophres. For Jean Smart's seen-it-all gossip columnist Elinor St John, she imagined her in previous decades: "She hit her stride maybe 20 years earlier, and this style works on her, this is how she's known in Hollywood for her big hats and bold clothes. She wants to stand out as much as the movie stars she covers." St John's hats — a different one for every scene, of course — were made by milliner Patrick Rogers at Western Costume and were partially inspired by the looks of real-life writers such as Louella Parsons and Elinor Glyn (the latter was especially fond of a hat).
Brad Pitt's silent film star Jack Conrad transitions in the film to more casual attire after sporting a tuxedo suit for the big opening party. "I felt he doesn't need to prove himself anymore," says Zophres. "He glides gently through his world. With that confidence he exudes, having him in a suit all the time would have taken away from that. I thought he should be in sportswear and I proposed this early on to Damien and he loved that idea. So did Brad — he understood Jack more than any of us."
Visual references for Jack's wardrobe included early photos of Gary Cooper. The sweaters were hand-knitted by designer Maria Dora, while hatmakers Optimo provided the custom­made headgear.
Nuanced details enliven each character. At the first party, for example, Manny is a wide-eyed dreamer trying to break into the world of film — he has a dress shirt but "has borrowed a tuxedo jacket and his bow tie is too small". As he moves up the executive ranks, he wears suits that came from the same tailor Irving Thalberg (played by Max Minghella) would have used.
Zophres says of Lady Fay Zhu (played by Li Jun Li), loosely inspired by Anna May Wong: "She's very stoic and has had to endure people putting her in a certain place, but she stands above it all with a grace and elegance. We built all of her clothes in-house and it was just one fabulous outfit after another."
There were thousands of images for reference or inspiration. "In the same way you internalise the script, you internalise all these images," explains Zophres. So there was an authenticity from that research but also a "freedom to design for these characters" and not stick only to historical recreations.
The team used some vintage fabrics and clothing — a few original outfits such as a purple lamé dress that Nellie wears, but mostly vintage frocks that were deconstructed and reconfigured, like a coat lining that became a dress for Jean Smart. There were a few original men's suits that could be used but the others were made by tailors with the period details and correct weight of fabrics (14-ounce wool was imported from the UK and Italy).
If Babylon feels like a film where the aesthetic is integral to the storytelling, then its wild spirit was also reflected in the creative collaboration that brought it to life, suggests Martin. "The film has a kinetic energy to it," she adds, "and it felt like we had that kind of energy in creating it."