350 Prosthetic Hands Donated to Ukrainian War Victims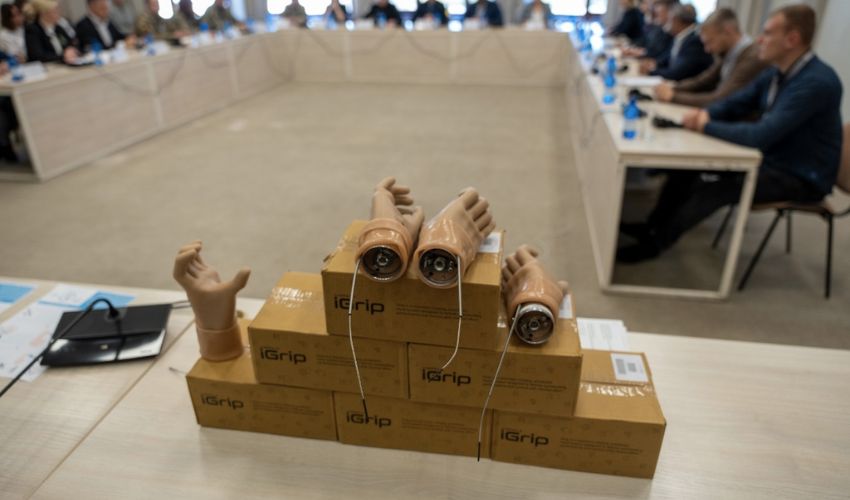 The war in Ukraine began on 24th February 2022 with the Russian invasion of the country. Since then, millions of lives have been affected and countless citizens and soldiers have suffered serious injury resulting in amputation. This is tragic, of course- how could additive manufacturing  help?
In fact, 3D printing can be used to produce prosthetic limbs for said war victims. In the most recent example, a researcher named Gerwin Smit at Delft University of Technology (TU Delft) in the Netherlands has developed a prosthetic hand made using a hybrid method of 3D printing and laser cutting. These hands have been distributed and used in India since 2021 and, thanks to Indian social enterprise firm Vispala, are now available in Ukraine. Vispala has donated 350 of the hands to Ukraine with the help of an American IT company named Cisco.
The iGrip, or 'Hundred Dollar Hand', so-called for its low price, is a reliable and accessible solution for the 80% of the global population who live in countries for whom prosthetic hands are usually prohibitively expensive. The delivery of the hands was a momentous occasion, taking place in the Ukrainian capital of Kyiv in the presence of Ukrainian ministers and the ambassadors of the US and India.
Mr Smit was delighted about the donation, and wants to continue the humanitarian progress with the help of the Movendi Foundation, which aims to help disabled individuals in developing countries.  "I'm happy that we can contribute to this wonderful initiative. And I'm also hoping that, with help from the Movendi Foundation we can raise enough money to make another donation to Ukraine."

Mr Smit has extensive experience in this field; his PhD research focused on a new ultralight prosthetic hand using hydraulics. In terms of similar projects, back in September we reported on Oxford Performance Materials, which has developed orthopaedic implants for Ukrainian war victims using 3D printing. As well as humanitarian aid, there is also efforts being made to protect cultural heritage and document war crimes, such as Artic3D's project in collaboration with the Ukrainian police, to 3D scan artefacts and damage done by Russian forces. You can find more information about the iGrip HERE.
What do you think of the prosthetic iGrip hand for Ukrainian war victims? Let us know in a comment below or on our Linkedin, Facebook, and Twitter pages! Don't forget to sign up for our free weekly Newsletter here, the latest 3D printing news straight to your inbox! You can also find all our videos on our YouTube channel.
*Cover photo credits: Ministry of Health Ukraine/ TU Delft