The Most Popular STL Files of 2022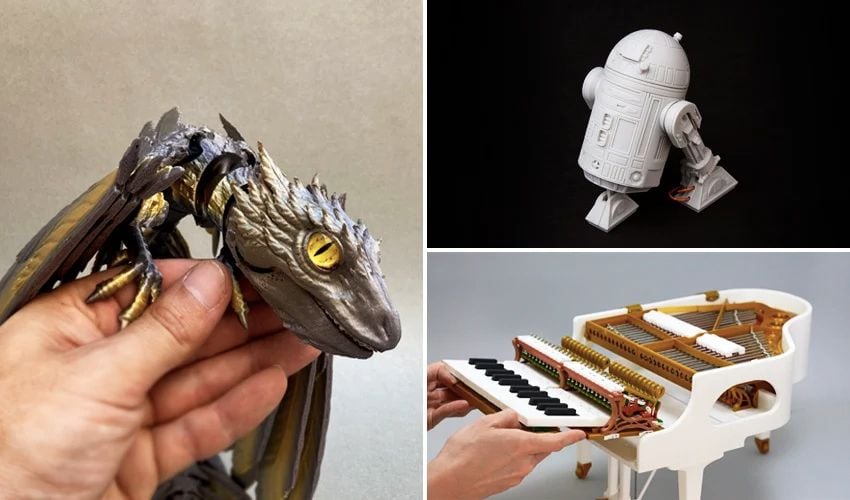 If you enjoy using 3D printing, but are not a big fan of designing 3D objects yourself, then you have probably already used platforms such as Thingiverse or Cults, which offer ready-to-print designs. While the number of such platforms is large, the number of objects uploaded each day is even larger; designs offer infinite creative freedom. This year, we have once again looked at the most popular STL files of 2022 on Cults, highlighting those that impressed us with their creativity, usefulness and originality! Whether accessories, entertainment games or even entire furnishings, there was no stopping 3D printing this year. Let's take a look together at the most popular STL files of 2022!
A Biting Archepteryx STL File
Whether you are a Jurassic Park fan or not, this STL file of an Archepteryx, made using 3D printing, is a convincing replica thank to its intricate details like the ability to bite and feathery wings. The Archepteryx, which is considered to be the earliest known bird, is extremely easy to print because the body and wings are one-piece and can be taken directly from the 3D printer without any kind of support fixtures. Using PLA material, the designer of this 2022 STL file states that the bite can vary depending on the filament used; so the stiffer the material, the harder the Archepteryx will bite. Make sure you print at 100% scale here so that the mechanisms work correctly. Finally, you can insert glass eyes, which should have a diameter of 12 mm. You can find the popular STL file HERE.
A Fully Functional 3D Printed Piano
Music lovers in particular will enjoy this 2022 STL file, because this is a fully functional grand piano! The piano, which was originally inspired by a Lego grand piano, shows what mechanisms are possible using 3D printing. When any key on the piano is pressed, a chain reaction is triggered, resulting in a specific sound being made by the insertion of levers and hinges. The piano's printing time of 250 hours and it has a material consumption of 3 kilograms – which is mainly divided into PLA and a small part of PETG. Furthermore, it is important for you to know that this is not a pure 3D printed piano, as it includes fasteners and rods. You can find more about this STL file HERE.
An R2-D2 Straight From the 3D Printer
This R2-D2 is not from another planet, but from a 3D printer! This STL file from 2022 is a foldable robot whose individual body sides you 3D print separately and then insert a small protrusion so that you can attach them together later, no supports or brim are necessary. After inserting the upper and lower parts, you need to pull the arm outwards, lower it and then attach it together. To ensure the authenticity of the R2-D2, it will also be necessary to cut threads that will later serve as cables and pull them through at the appropriate points. The finished robot can turn its head and move its arms. If you also want to bring a Star Wars atmosphere into your home, you can find the STL file HERE.
The Spinning Wheel That Keeps Your Cat Fit
It's no secret that cats need plenty of exercise. And though "chonky" cats are popular online, it is not good for their health. Moreover, due to space constraints in homes, finding a way to get your cat moving can often prove to be a challenge. To counter this, take advantage of this 2022 STL file that allows you to 3D print a "cat wheel" for your pet! Printed on an Ender 3, this wheel is 220 x 220 x 250 mm and since some of the parts are very large and take up the entire build plate, it is not recommended to print with a smaller 3D printer. To make this STL file for your cat you will need to print a total of 32 of the rails and 16 of the running plates. You will also need bolts and nuts for the final completion of the wheel, so you can assemble the individual parts. Here you can see the cat wheel in action and if you want your cat to try it out, you can download the STL file HERE.
A 3D Printed Christmas House
It is never too early to start thinking about the upcoming Christmas. Though one has already passed, with this 3D printed Christmas House STL file, you can start a countdown for the next year!  The final part measures 202 mm x 233.3 mm x 336.8 mm, meaning you will need at least a 3D printer no smaller than 202 mm x 196 mm x 143 mm to print the file. Once the parts of the STL file are all printed, you can then glue them together with glue or even optional glitter glue. If you also want to print this Christmas house, then you can rejoice, because the designer Fulv has already systematically arranged the individual files in a folder. Click here for the STL file.
A 3D Printed Table STL File For Your Home to End 2022 With Style
This minimalist table, named Totem, is completely 3D-printed and consists of a total of five parts, none of which require printing supports. Moreover, the designer of this STL file notes that assembling the table is very easy and intuitive. Here you do not need glue or other tools, because the individual parts fit into each other and are therefore easy to assemble. In total, you need to print four "tabletops," which will form the upper part of the table and a "table base," which will be attached at the bottom. With a height of 60 cm and a diameter of 35 cm, it is relatively large and can therefore be used for the home. And here it is completely independent whether you want to use this table for the interior or exterior of your home, because this is made of PLA it is thus weather and water resistant. Download it HERE to beautify your home with the Totem table.
Backgammon Set for All to Play in 2022 and 2023
This popular STL file from 2022 is guaranteed to provide fun for young and old alike! This accurately sized backgammon set is entirely 3D printed. It was made with an FDM 3D printer and the game consists of a total of 64 parts, which are broken down as follows: 15 checkers, 12 triangles, two connectors each, two clips and one clamp and all these parts again in the same number in a different color. In order to assemble the game properly, it is recommended to use glue here. In order to create the parts, a material consumption of about 660 grams and a total printing time of about 62 hours is expected, though thankfully you will not need any support structures. Additionally, you will need two dice to get started with the game. Download the
STL file
now and start your game!
A Vikingesque Tankard STL File to Celebrate the End of 2022 in Style
If you are a fan of Vikings, then you should definitely run straight to your 3D printer and 3D print this popular STL file from 2022, because it will definitely be worth it! This is a (beer) stein that is similar in design to those used by Vikings. The tankard was made at a speed of 50 mm/s and a layer height of 0.2 mm by the designer Eureka3D, who states that no support structures were needed. The exciting thing about this STL file is that you can use this in different ways: either you place a can with a volume of 355 ml directly into the jug or you transfer your drink into the jug. Of course, you can also customize the size of the pitcher accordingly. In any way you use the 3D printed beer stein, it will surely be an eye-catcher! You can find this popular STL file HERE.
A Mini Shelf for Your Kitchen Utensils For a More Organized 2023
With the help of 3D printing, we can make not just industrial parts but also practical gadgets for your home. This 2022 STL file was designed to keep your kitchen utensils or even spices in order. The shelf is adaptable to your needs, because it can hold utensils of different sizes. After printing all the necessary parts (rail, hook, spice holder and utensil holder), you can directly start screwing or gluing the rail to the wall and finally slide in the holders. The kitchen gadget printed with PLA requires a build volume of at least 160 x 160 x 100 mm for printing and does not require any support structures. Note that you must print the parts wide enough so that it can subsequently hold the extra weight of spices and utensils without breaking. If you also want to use the popular STL file to organize your kitchen, you can find it HERE.
Label STL Files for Plant and Seed Identification to Make Gardening Easier
It will soon start to get warmer again and the first gardeners will return to their gardens to plant lettuce, tomatoes, cucumbers and so on. So that you do not forget which seed you have sown at which place, you should use this STL file for labeling! The label made with PLA can not only be easily reused every year, but is also incredibly simple in its production: print out the file, cut out pieces of paper in the size 50 x 36 mm and label them – and you can use them! With a material consumption of 15 g per label and a printing time of one to two hours, you can even – if you use a 3D printer with dimensions of 220 x 220 x 250 mm – print up to three labels at the same time. Prepare for the gardening season already now with this STL file!
Which STL files do you particularly like? Let us know in a comment below or on our Linkedin, Facebook, and Twitter pages! Don't forget to sign up for our free weekly Newsletter here, the latest 3D printing news straight to your inbox! You can also find all our videos on our YouTube channel.