3D Printing Industry Review of the Year: April 2022 
Interested in reading more about the year's biggest 3D printing news? You can access our full 3D Printing Industry Review of the Year series here.
As is so often the case in the 3D printing sector, much of April's headline news came from those exhibiting at the AMUG Conference. Still, plenty was going on away from the prestigious industry-insider event as well. 
With Russia's war in Ukraine raging on, the 3D printing community continued to find new ways of helping those affected by the conflict. More broadly, in the fields of software and material engineering, as well as industries like oil and gas, 3D printing also continued to progress in terms of part throughput, lead times, and durability. 
Read on for more from the likes of AMUG, Markforged, Ultimaker, Helio Additive, Sandvik, BCN3D, Shell, Foxconn, and Triditive.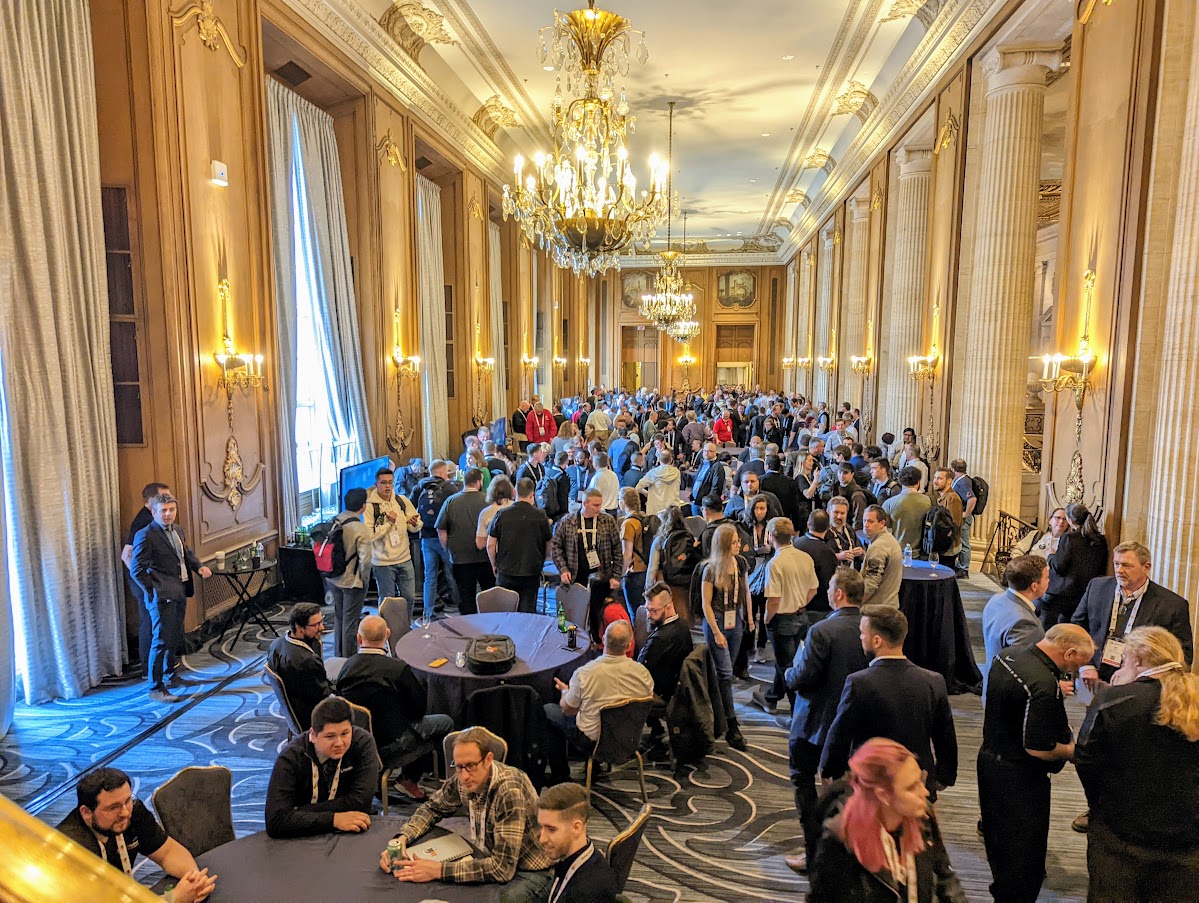 Industry joins the AMUG 2022 conference
In April 2022, the AMUG exhibition returned to its usual home in Chicago, where it once again opened its doors to industry insiders seeking to get a sneak peek of the latest 3D printing or scanning advances. Though not open to the general public, 3D Printing Industry returned to report from the event, and our Editor-in-Chief, Michael Petch, uncovered some interesting trends at the show. 
Following the results of our State of Resin 3D Printing Survey, in which users showed dissatisfaction with a lack of flame-retardant materials, Tiger Coatings exhibited a potential solution. Once post-processed, the firm said the Tigital 3D Set thermoset materials it had on display at the show can be made flame retardant up to UL 94 V0. Nano Dimension also made its AMUG debut, while less familiar names like fabWeaver exhibited machines and materials for mid-tier 3D printing adopters. 
As is now customary, the event also saw another group of members awarded Distinguished Innovator Operator or 'DINO' Awards. This year's DINO Award winners included Massivit 3D's Ben Arnold, Vulcan Forms' Matthew Donovan, and Computer Aided Technology's Nick Licari. Elsewhere at the event, the Technical Competition winners were announced, as was a leadership shakeup, with Mark Abshire, Shannon VanDeren, and Jason Dickman elected to AMUG's board. 
Award-winning 3D printing efforts in Ukraine 
With no sign of Russia's war in Ukraine ending, the 3D printing industry stepped up its efforts to help people left injured or homeless by the conflict. As part of Project DIAMOnD, Automation Alley began mobilizing its 3D printing network to answer a call from the Ukrainian Defense Ministry for wound-bandaging tourniquets to treat those injured by Russian troops. 
The initiative was launched soon after BCN3D delivered 300 3D printed tourniquet parts to hospitals in Ukraine and reflected a desire to deploy the technology in support of the humanitarian relief efforts underway in the country. 
Despite the war continuing to rage, ICE Industrial Services also unveiled plans to use 3D printing to rebuild Ukraine. Utilizing a novel concrete-depositing printhead that can be suspended from either a robotic arm or gantry, the firm intends to replace border checkpoints destroyed during Russia's invasion. 
In terms of broader industry initiatives, the Together We Are Strong program saw the likes of Nexa3D, EOS, BigRep, Wohlers Associates, SYGNIS, Digital University, and 3YOURMIND come together to raise funds for Ukrainian relief efforts. The project was later recognized during the 2022 3D Printing Industry Awards, in which it won the 3D Printing for a Better World Award. 
Software upgrades bring performance promise 
April turned out to be a significant month for the 3D printing software space, with product updates and market consolidation promising to boost the productivity of users' machines. Markforged acquired Teton Simulation, which saw the latter's offering integrated into the Eiger software, and ultimately facilitated the launch of Markforged Simulation, a virtual testing offering introduced in December. 
With the launch of Cura 5.0, Ultimaker also pledged to provide users with a "leap forward in print quality" that enabled them to reach a "new threshold for finer and faster 3D prints." The update brought profile, UI and Apple compatibility improvements, as well as an enhanced engine that allowed for the utilization of variable line widths during slicing. 
Helio Additive's AI-led slicing software, meanwhile, was completely new to the market. Designed to help makers ramp up their part throughput and consistency, the program revolves around a physics-based AI engine capable of adapting the way parts vulnerable to warping are sliced, so that they're less likely to develop nonconformities. 
Material advances drive applications 
In material news, Sandvik's 3D printable cemented carbide launched in April. Previously only compatible with other production technologies, the material features a uniquely tough cobalt and tungsten carbide matrix structure. This is said to allow users to print the feedstock into objects that last 'up to 20 times longer' than those created from other steels or alloys.
Gränges Powder Metallurgy's first 3D printing powder also came out during the month. As part of the company's DISPAL family of materials, 'AM S220' features properties that are similar to those of steel, except it's a third of the weight. This makes it a strong choice for performance applications in sectors such as aerospace and automotive.
"In the past, we had many success stories of customers replacing steel and carbon fiber applications with the conventional DISPAL S220," Greta D'Angelo, Business Development Manager at Gränges Powder Metallurgy, said at the time. "Now, we are excited to offer the same material for additive manufacturing, giving our customers the opportunity to take advantage of even more geometrical freedom." 
Application & business trends emerge 
With so many product-focused announcements making April's headlines, it would be easy to miss out on some of the stories that reflected wider industry changes. At one of the multinational's many offshore installations, it was revealed that Shell has begun 3D printing obsolete parts. The project's unveiling was later followed by the launch of 3D Systems' CuNi30 material, a corrosion-resistant shipbuilding alloy, designed to meet a growing demand for maritime 3D printing products. 
Ahead of Nikon's $622 million SLM Solutions bid, Foxconn and Triditive's new metal 3D printer also got green-lit. Like GE long before them, the likes of Foxconn, Nikon and Epson, which launched its debut 3D printer a month earlier, represented huge names in the wider manufacturing, electronics and 2D printing industries respectively, that were seeking to expand into the 3D printing space. 
2022: 3D Printing Industry review of trends and news
2021: 3D Printing Industry review of trends and news
To stay up to date with the latest 3D printing news, don't forget to subscribe to the 3D Printing Industry newsletter or follow us on Twitter or liking our page on Facebook.
While you're here, why not subscribe to our Youtube channel? featuring discussion, debriefs, video shorts and webinar replays.
Are you looking for a job in the additive manufacturing industry? Visit 3D Printing Jobs for a selection of roles in the industry.
Featured image shows the AMUG Conference 2022 New Members Reception. Photo by Michael Petch.