Massivit 3D Presents its 10000 solution and Cast In Motion Technology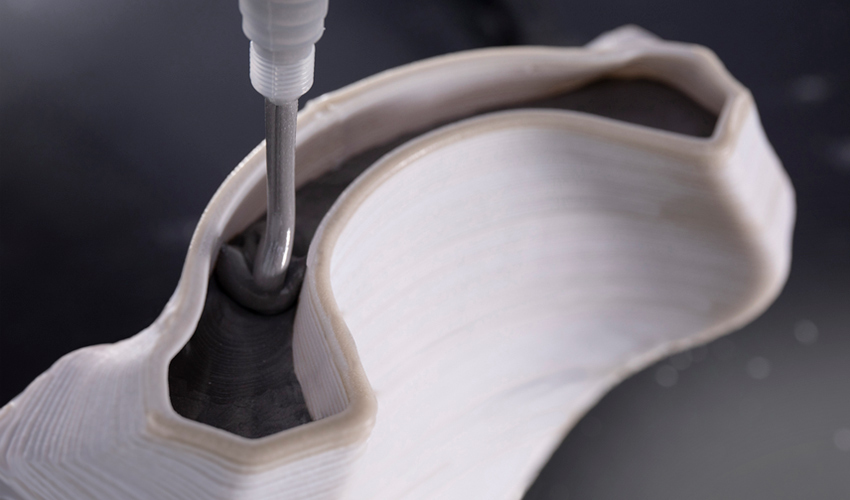 Formnext 2022, the largest international trade fair dedicated to additive manufacturing, took place in mid-November this year. With more than 800 exhibitors and thousands of visitors from all over the world, the event was, once again, a major meeting place for the 3D printing industry. One of the companies exhibiting its large-format additive manufacturing solutions was Massivit 3D. With locations in Israel, North America and Belgium, Massivit 3D is one of the leading suppliers of large-scale 3D printers. This year it used the Frankfurt show to present its award-winning Massivit 10000 system to the additive manufacturing market for the first time. It also demonstrated the capabilities of the system's "Cast In Motion" technology for mold creation.
Noted for its large format solutions based on GDP technology, or Gel Dispensing Printing, Massivit 3D is well-known for its ability to create huge parts. Its machines also respond to the needs of many industries, and we were able to see this during the latest edition of Formnext. Through several live demonstrations, the company showed visitors the new additive manufacturing system which could be a game changer for many users thanks to the automation of mold production for composites. Massivit 3D's main goal with the 10000 solution and Cast In Motion (CIM) technology is to provide a solution to common bottlenecks in composite manufacturing. How? By directly printing and casting industrial molds in a single process. To better understand the importance of this technology, we go into detail on how the production method works and what benefits it offers to the industrial and additive manufacturing sector.
The Massivit 10000 System and "Cast In Motion" Technology
As mentioned, the company presented its Massivit 10000 system during Formnext 2022. Using CIM technology, this process enables the automated production of isotropic molds and tooling for faster composite manufacturing. The problem they are trying to solve with CIM centers on producing composite parts. Typically, producing composite objects requires a CNC milling process and then manual layering of material to form the mold, followed by casting and curing. According to Massivit 3D, this traditional process can take up to 19 steps and is harmful to the environment. However, the CIM method approaches this problem in a totally different way, which has never before been seen in the 3D printing industry.
The system works by means of an integrated head that prints an outer sacrificial shell using Massivit 3D's water-breakable thermoset material. A second head intermittently pours a thermosetting casting material into that shell as it is being built. The combination of these two processes makes it possible to create an isotropic 3D printed mold for composite components. The material used, called CIM 500, offers high mechanical and thermal properties. This provides a low coefficient of thermal expansion (CTE) and high heat deflection temperature (HDT). In addition, the system is characterized by being able to accelerate mold production by 80%, reducing lead times from weeks to just a few days.
"There's no doubt that the composite market has eagerly awaited such a breakthrough in molding processes," said CEO Erez Zimerman. "The Massivit 10000 overcomes critical bottlenecks for manufacturers, cutting down their mold production time from dozens of weeks to just days. There was a palpable excitement at our Formnext booth reflecting the deep need for digital transformation in the composites arena."
Visitors who stopped by the Massivit 3D booth during the international trade fair in Frankfurt had the opportunity to see and handle 3D printed parts with the new solution. These ranged from complex isotropic molds, to wash-away mandrels, patterns, jigs and fixtures. A unique opportunity to get a first-hand look at the possibilities of the manufacturing technology.
Applications of Massivit 3D's Technology
Massivit 3D's patented technology opens the door for integration in a multitude of industries. Clearly, one of the main applications is the creation of complex molds, including open and closed molds, bath molds, thermoforming tools, resin transfer molding and reaction injection molding. We also find other uses, such as the manufacture of masters, jigs and fixtures, all of which can be produced digitally at high speed. Not to be forgotten is the ability to create wash-away mandrels for ductwork and vents. These applications and tools are very useful for industries such as automotive, sporting goods, rail, marine, construction, defense and aerospace.

As we can see, both Massivit 3D's new system and its well-known large format solutions are positioning the company as a major player in the additive manufacturing market. If you want to learn more about their technologies and capabilities presented during Formnext, you can visit their website HERE.
What do you think of the Massivit 10000 solution? Let us know in a comment below or on our LinkedIn, Facebook, and Twitter pages! Don't forget to sign up for our free weekly Newsletter here for the latest 3D printing news straight to your inbox! You can also find all our videos on our YouTube channel.
*Cover Photo: The Cast In Motion process (photo credits: Massivit 3D)