Deal of the day – Save big on Creality 3D printers!
We use affiliate links. If you buy something through the links on this page, we may earn a commission at no cost to you. Learn more.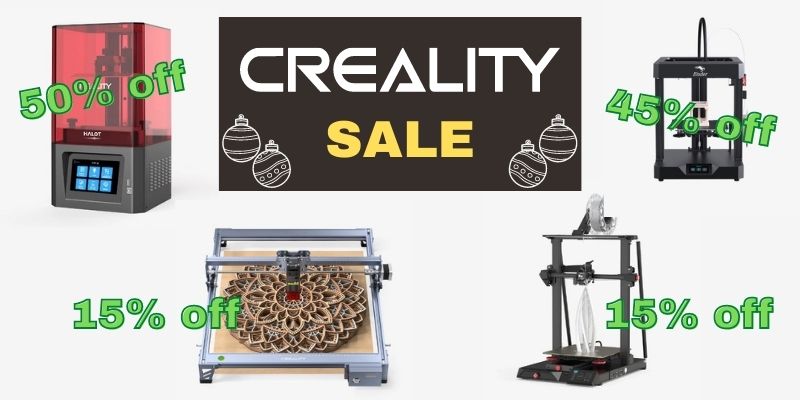 DEAL NEWS – If someone on your holiday shopping list wants a 3D printer, I have some great deals to help you save money on quality printers from a well-known and respected brand. You can save 15% up to as high as 50% off one of their popular printers. These deals expire as early as 12/15/2022 so don't wait around. Grab one of these great deals now. You can also check out all of our Creality 3D printer reviews.
Halot-One
Price: $144.50 USD (was $289)
Discount: 50% OFF
Date: 7th to 20th Dec.
Buy it here: https://store.creality.com/products/halot-one-resin-3d-printer-pre-sale?aid=zk-gadgeteer
Ender-3 V2 3D Printer
Price: $268.95 USD (was $489)
Discount: 45% OFF
Date: 7th to 13th Dec.
Buy it here: https://store.creality.com/products/ender-7-3d-printer?aid=zk-gadgeteer
10W Laser Falcon Engraver
Price: $419.05 USD (was $493)
Discount: 15% OFF
Date: 7th to 13th Dec.
Buy it here: https://store.creality.com/products/10w-cr-laser-falcon-engraver?aid=zk-gadgeteer
CR-10 Smart Pro 3D Printer
Price: $679.15 USD (was $799)
Discount: 15% OFF
Date: 7th to 13th Dec.
Buy it here: https://store.creality.com/products/cr-10-smart-pro-3d-printer?aid=zk-gadgeteer