City of Yonkers is Focus of BCW Project on Climate Change and Environmental Justice
Iona University's Hynes Institute for Entrepreneurship & Innovation to team up with Groundwork Hudson Valley in tackling environmental justice at Yonkers Housing Authority properties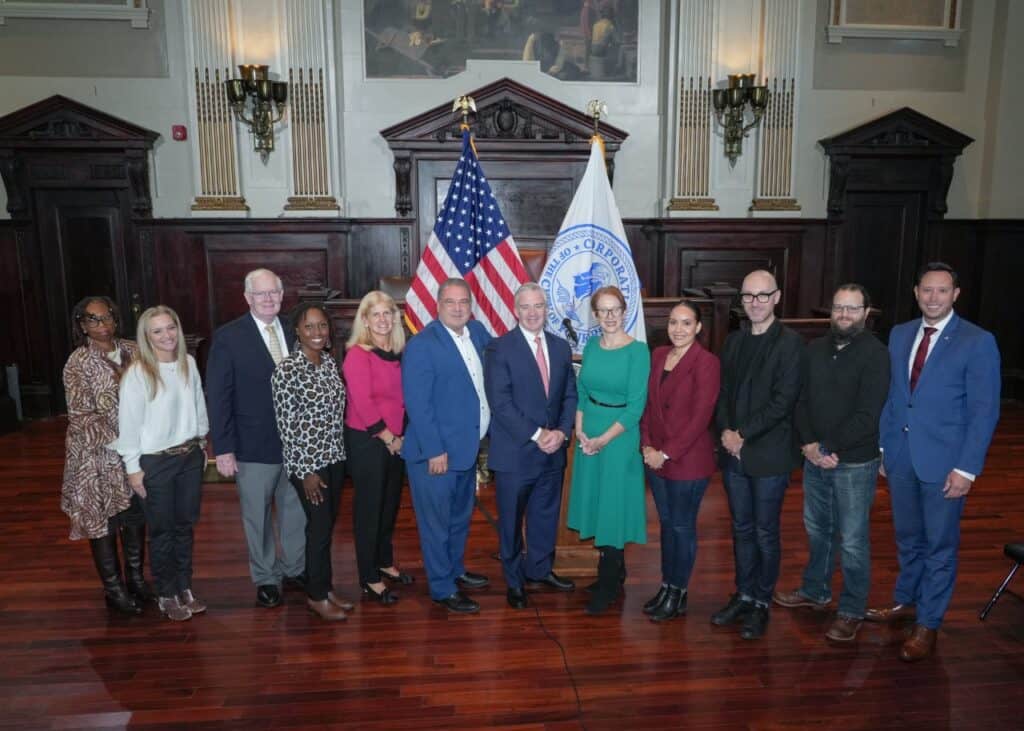 Addressing climate change and environmental justice in urban neighborhoods of Yonkers is the latest project being tackled by the Business Council of Westchester in partnership with the Yonkers Housing Authority and students at Iona University.
The Business Council of Westchester joined with Yonkers Mayor Mike Spano and Iona University President Seamus Carey, Ph.D., today to announce the new partnership to help bring relief to the city's affordable housing residents who have suffered from extreme heat and flooding due to climate change. The partnership is the latest initiative of the BCW's Westchester Innovation Network's City Labs project. WIN's City Labs works to bring solutions to pressing urban problems.
"We are grateful to the Business Council of Westchester and students at Iona University for joining us in this important cause: addressing environmental justice and climate change. I believe we must do everything we can to ensure that communities like Southwest Yonkers that are disproportionately affected by the climate crisis become more sustainable and resilient to climate change,'' said Mayor Mike Spano. "Great things are happening in this city, and we must ensure everyone shares in our prosperity and enhanced quality of life.''
Wilson Kimball, President and CEO of the Yonkers Housing Authority, said: "In partnership with New York State and Groundwork Hudson Valley we are already
leveraging millions of dollars to address this cause. Now we are adding the brain power of the Business Council of Westchester and Iona's Hynes Institute for Entrepreneurship & Innovation to the mix."
Marsha Gordon, President and CEO of the Business Council of Westchester, said WIN's goal is to harness the creativity of the country's top innovators to boost economic development in Westchester. Part of that, she said, is making sure that Westchester's urban areas are also thriving. City Labs focuses on bringing resources to these cities. "What better way to help our cities solve some of their most pressing problems than to bring the power of Design Thinking and students at the Hynes Institute to the problem.''
Carey noted that Iona students previously partnered with the City of Mount Vernon through the BCW WIN initiative, developing ways to help minority- and women-owned businesses bid on government contracts and grow their businesses.
"The Hynes Institute empowers students to harness their creativity and solve real-world problems," Carey said. "Today we are thrilled to once again partner with the Business Council of Westchester, and our students are eager to help tackle the important issue of environmental justice in the City of Yonkers."
Students from Iona will be working with residents at housing authority properties to help refine a sustainability project being undertaken by Groundwork Hudson Valley to address heat islands and flooding caused by past redlining practices.
Their findings will add to the research being used by Groundwork Hudson Valley to further other sustainability projects.
Groundwork Hudson Valley Executive Director Brigitte Griswold said, "By bringing together a set of leading stakeholders across business, academia, and public service, we are joining hands to improve the sustainability of our City and the quality of life for those most vulnerable to the consequences of climate change. This multidimensional partnership is the next step in creating genuine environmental justice in our community."