Making Music in the Military
Jay Gillespie was asking his parents for a saxophone by age three. By high school he was immersed in music, spending his senior year at the prestigious Interlochen Arts Academy in Michigan on a music scholarship. Then, as a classical saxophone performance major at the University of Michigan, his journey took the first of many turns.
Trained in classical music, Gillespie wanted to switch to jazz. It was not an easy transition. "I practiced eight to ten hours a day," he recalls. "I was used to being one of the more precocious musicians, but that was in classical music. As a jazz saxophonist, I wasn't good. But I eventually got there."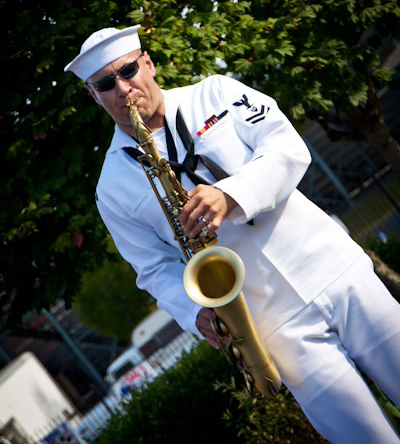 Unfortunately, when Gillespie wasn't practicing, he was partying, which eventually derailed his education. He dropped out of college and returned home to Alaska. When he heard about the US Navy — more specifically, its bands — he saw an opportunity.
Unable to afford the flight to a band audition, Gillespie joined the Navy as an aircraft mechanic instead, with hopes of transferring to the Navy band later. The risky plan ended up working out. Six months into his service, Gillespie auditioned for and was accepted into the Navy band, stationed first in New Orleans and later in Western Washington.
Callahan was slower to warm to music. He did enjoy choir in high school, but his goal was to enlist in the infantry. His mother convinced him to earn a college degree first. He earned a degree in recreation management at Idaho State (where he also took music courses) and then joined the Army.
Ten months into his military service, Callahan fractured his femur during a training exercise at Fort Bragg. The injury made it impossible to perform some essential duties. When members of the 82nd Airborne Division All-American Chorus — also based out of Fort Bragg — mentioned that auditions were coming up, he took note. "I figured I had to change my career anyway, so I might as well audition," says Callahan, who joined the chorus.