Balancing necessity and nostalgia: Hollywood
Everyone has some sort of ritual after returning from the beach. For many, this ritual often involves dusting off sand and taking a quick rinse under the shower to wash off the dried salt from the ocean as we transition out of the elements to refuge. Hollywood, a sensitively updated beach house at Smiths Beach on Phillip Island, honours the unique rituals of each visitor and builds on thirty years of well-loved patterns of living by the coast.
The original house was designed in the early 80s by John Baird, a prominent architect in Melbourne at the time. Baird's ethos was grounded in resourcefulness and energy efficiency. His designs had an accessible approach to sustainability, which informed his decisions on layout, form and materiality. The original home at Smiths Beach, which has been the holiday home for the Sainsbury family for three decades, was equal parts robust and welcoming, and its bones have stood the test of time. The Sainsburys put Baird's design to the test over the years, piling in the visitors and surfboards. As the family grew, so did conversations about growing the house. And so it was that Oscar Sainsbury began to work on designs with friend and intermittent collaborator Dave Brodziak of Insider Outsider.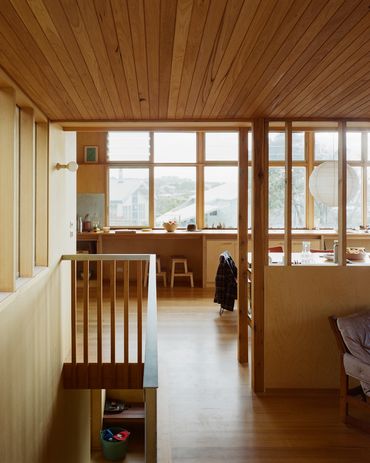 "How do you engage with [a design] that is so resolved and has such a rigorous and uncompromising idea about itself?" Dave asked as a starting point for the design. Oscar and Dave agreed that it wasn't a direct idea that drove the selection of materials or the composition of spaces. Instead, it was an evolution of an approach that built on what was useful and efficient – principles that Baird himself would agree with. "If it served a functional purpose then we built on that and [new elements] would complement that," Oscar says.
On the ground floor, the bathroom and bedrooms remain in their original positions with only a refresh of materials (plywood and vinyl) to ready them for another decade or two of use. One of the most significant changes Oscar and Dave made – and perhaps the most critical – was the reorientation of the stair. By retaining its central position in the home but flipping the point of ascent, they have decluttered foot traffic at entry points, divided personal and public spaces and saved ocean views for gathering spaces on the first floor.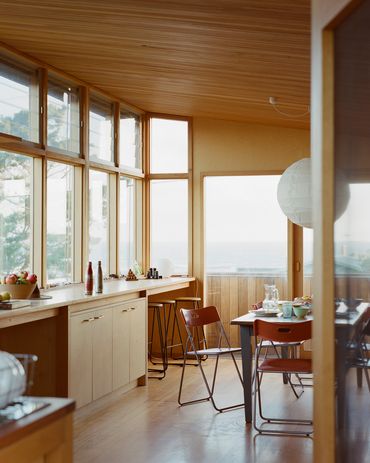 The kitchen, dining and living rooms remain on the first floor and almost mirror Baird's original layout. These days, it seems unusual for these areas to be elevated, with typical residential briefs seeking to spill living spaces out onto an adjacent lawn or courtyard. But in sticking to their motto of "evolving the functional," Oscar and Dave have retained these rooms on the upper level, tweaking the layout to increase space and efficiency in many ways. The kitchen and dining areas line the north-eastern edge of the home and host timber windows that are humble in scale. These openings are less about views and more about passive design strategies that make the spaces comfortable to occupy. The glazing and louvres flood the home with natural light and catch coastal breezes, while external blinds block the summer heat before it radiates inside.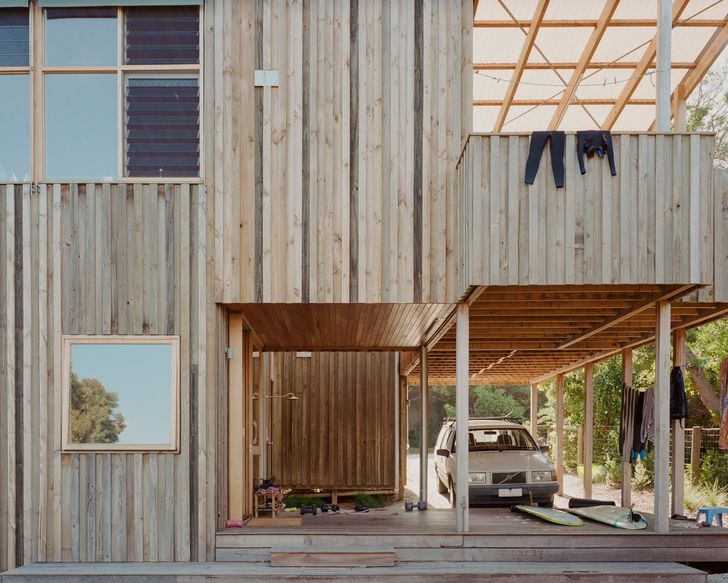 It's considerations such as this that demonstrate an approach to sustainability that feels accessible and within reach for most households. "There's a practical sustainability to [the design]. Rather than trying to do everything in a well-resourced new material, you can make the most of what you've got and add to it as you need to," says Oscar. Around 70 percent of the house's cladding is existing rough-sawn timber that was removed to make way for alterations and additions. Selective areas of new cladding feel poetic as a subtle expression of the continued story of this beach house. New materials such as galvanized steel and iron, plywood and rough-sawn timber are off-the-shelf materials found at any hardware store. This approach ensured multiple efficiencies, reducing costs, wait times and the number of trades required on site. These pragmatic and resourceful design thinking and construction strategies are especially important during an era of unfavourable economic change and accelerating climate crises.
Thirty years of memories at this beach abode, paired with sensitive design and conscious craft, have ensured new additions add value to the house without detracting from its original qualities of robustness and warmth. A contrast to the bland housing stock lining the main road into Phillip Island, Hollywood is honest and humble in nature, an uncomplicated home that revels in its beachside setting. By balancing necessity and nostalgia, the design gives more than it takes. It's created a home that encourages placemaking – be it in the cubby-like nooks of the bunk beds, the edges of the windowsills or around a table on the terrace. The home embraces individualism, catering to any visitor's wind-down ritual after a day at the beach. At Hollywood House you can dump the beach gear, wash off the day and be welcomed inside with a warm hug and a hot cup of tea.