Taking the challenge – Central Queensland Today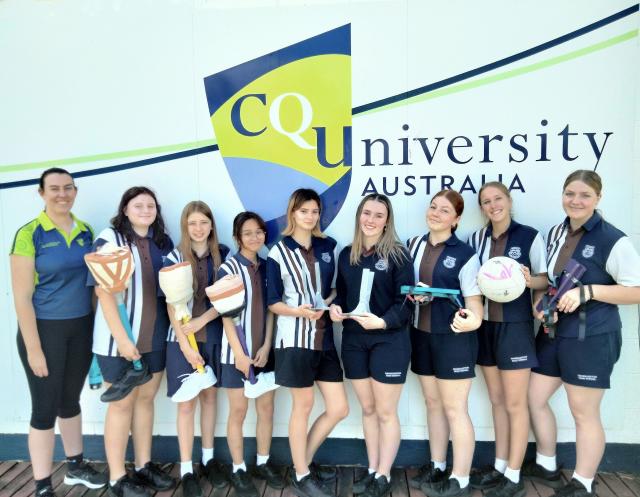 Ten Year 9 and 10 girls from Rockhampton State High School have just completed a 100-day Biomechanics Research & Innovation Challenge.
The challenge slogan was '100 Girls, 100 Stories, 100 Days' and its aim was to inspire and raise the participation rate of high school girls in science, technology, engineering and mathematics (STEM), by focusing on the exciting field of biomechanics.
The program was delivered Australia-wide, during terms 2 and 3, in partnership with metropolitan and regional universities. Only 100 students were able to participate; Rockhampton SHS was the only school in Queensland, with all other schools participating from New South Wales, ACT, and Victoria.
This is the first year of the program and it was coordinated by eight female biomechanists from the University of Canberra, Central Queensland University, University of Newcastle, Griffith University, University of Melbourne and the University of Queensland, and organised in partnership with BrainSTEM. It was funded by the Australian Federal government's AusIndustry Women in STEM and Entrepreneurship (WISE) grant program.
The students worked with two mentors from the Exercise and Sport Sciences program at CQUniversity, Dr Crystal Kean (Senior Lecturer and BRInC Program Design Co-Chair) and Dr Sam Fien (Lecturer). With the support of their BRInC mentors, the students applied a design thinking framework to develop a biomechanics-based solution to a real-world problem.
BRInC Program Design Co-Chair, Dr Crystal Kean, said: "When developing the program, our goal was to raise awareness of the opportunities for girls in STEM and explore the wide application of biomechanics. The depth of projects completed by the teams in the program, showcased how biomechanics applies to our everyday lives and the enthusiasm of the girls each week was inspiring. It was a pleasure mentoring the girls from Rockhampton SHS and we hope by participating in this program, we have inspired the next generation of girls to pursue opportunities in STEM."
The Year 9 students chose to design a prosthetic leg that could be used by a girl of the same age. They researched the key features of a prosthetic leg before designing and building a prototype. A range of mobility tests were conducted before being able to analyse their walking gait with and without the leg using the motion capture cameras and imaging software at CQUniversity's biomechanics laboratory.
Year 9 student Heidi O'Shea said she really enjoyed the opportunity to be part of the BrinC program.
"It was great being able to visit the biomechanics lab at CQUniversity with Dr Crystal and Dr Sam and to work with equipment that we don't have at school.
"Our favourite part of the program was working together as a team to design and build a prosthetic leg and then present our project to other girls in Australia. It was really interesting to see what other teams investigated for their biomechanics project. I would definitely recommend this program to girls interested in pursuing a future career in STEM."
The Year 10 students are keen netballers and designed an ankle brace to compare to commercially available braces. They first researched the types of ankle injuries that can occur and then measured the types of flexion in an ankle. They also designed and built a platform that was worn while walking to observe the ankle flexion.
As part of the program, students also had to participate in a series of immersive online workshops and masterclasses with their mentors. They also had the opportunity to use some of the laboratory-based resources at CQUniversity to gain hands-on experience in biomechanics. At the end of the program, students delivered their project findings and shared their biomechanics story as part of an online conference.
Head of Science at Rockhampton SHS, Stephen Ladley, said this program was a fantastic opportunity for the students to work with scientists, learn how research projects are conducted and use equipment in a biomechanics laboratory.
"I was very impressed with the girl's commitment to the program, especially their creativity and teamwork. It has been a rewarding experience and hopefully it encourages them to consider a career in STEM as well."