The Block 2022 exclusive: Sarah-Jane reacts to Shaynna Blaze saying she should pursue a career in interior design after The Block
Tom and Sarah-Jane have consistently delivered stunning rooms so far on The Block 2022, but it's Sarah-Jane's styling that has particularly impressed the judges.
In fact, Shaynna Blaze thinks the social worker has such a good understanding of interior design she could do it professionally after the show.
Stream the latest episodes of The Block for free on 9Now.
Sarah-Jane was blown away by the comment and is thinking about taking the renowned interior designer's advice.
"Huge compliment and definitely something that I'm considering," she told 9Entertainment in an exclusive video interview.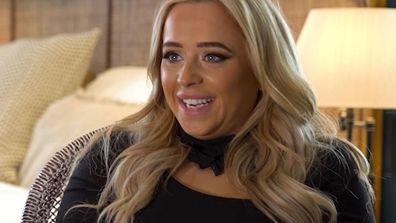 The 30-year-old hadn't even thought about whether she might be skilled in styling before going on The Block.
Her plumber husband Tom had though, and was actually worried about how Sarah-Jane would go with the design side of renovating.
"Tom goes to me, 'Oh I didn't think your styling would be this good'," she said.
READ MORE: Sarah-Jane on her and Tom's first Room Reveal win for Master Bedroom and Walk-in Robe Week
"I guess when you have a whole lot of money to spend your opportunities broaden," Tom responded.
Sarah-Jane added, "Yeah, I didn't know I had this secret talent until someone gave me hundreds of thousands of dollars," she laughed.
Suggesting a Block contestant could have a future in interior design isn't something the judges say often or lightly. But after seeing Tom and Sarah-Jane's tartan guest bedroom, Shaynna knew only someone with an eye for design could pull it off.
The guest bedroom featured walls completely covered in blue tartan, which was contrasted and complemented beautifully by simple blue, white and green bedding.
Sarah-Jane's confidence in using the tartan and knowing what colours and patterns to put with it prompted Shaynna to say "the talent in here is phenomenal".
READ MORE: The 2022 Block homes have officially hit the market – Here's what you need to know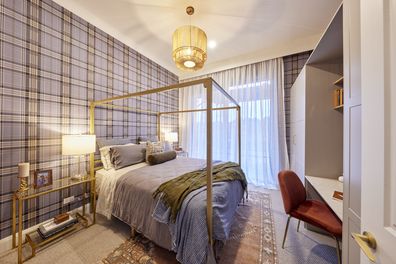 And those comments came before Shaynna realised Sarah-Jane had taken her advice to add face-level storage to her bathrooms with a shaving cabinet, or 'Shaynna' cabinetas it's now known.
While the mum-of-one is thinking about moving into an interior design career, she admitted she isn't sure where to start with it.
READ MORE: Tom and Sarah-Jane on living out their tree change 'dream' on The Block
When reminded former Block All Star Jenna Densten has opened a Design School, she realised that might be a good place to begin.
Jenna's Design School is also where Deb Saunders, another former contestant Shaynna said had incredible natural design ability, studied interior design.

While Sarah-Jane thinks studying interior design could be useful in launching her next career, Tom doesn't understand why she would need to do a course when she's already gifted at styling.
"There's so much I could learn darl. Let's not get ahead of myself, I'm good but I'm an amateur still," she laughed.
Tom responded, "See I look for any excuse to not go to school."
Tom and Sarah-Jane will once again have the chance to impress their judges this week with one of the most important rooms in the house, the kitchen.
In Pictures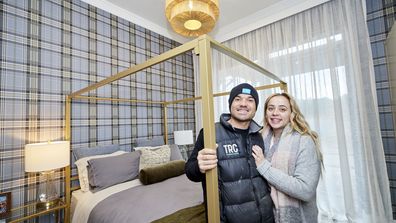 Tom and Sarah-Jane's Guest Bedroom and Ensuite
A big risk pays off for the Blockheads.
The Block airs Sunday at 7.00pm and Monday to Wednesday at 7.30pm on Channel 9. Catch up on all the latest episodes on 9Now.