SNHU Grad Uses Degree to Drive Change and Promote DEI
While some use the summer season to slow their pace, Darryl Johnson '22G, SSYB, CSM, was full speed ahead. Although he's been advancing as a professional in the psychology field and nonprofit world for some time now, Johnson really accelerated toward his goals in August with the help of two major events.
First, he presented at the 2022 American Psychological Association (APA) Convention, a three-day conference that brings thousands of industry professionals from a range of specializations together. Then, later that week, he completed his capstone class at Southern New Hampshire University (SNHU), thus earning his master's degree in psychology.
Driven to Change the World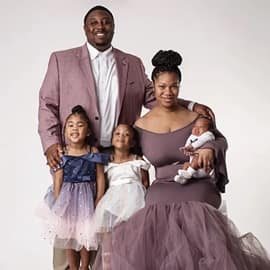 Johnson feels a calling to support others, which initially led him to seminary school to study theology. "I was three classes from graduation when I had an epiphany," he said. "I was battling depression and discontent due to a lack of clarity with my personal identity. I always had a desire to help people and believe it to be a vocation. I thought theology was the answer, but it wasn't."
In his search for a new direction, he arrived at psychology—particularly as it impacts diversity and equity. "I want to change the way we treat each other, the mindsets that support the lack of diversity and equity in the world, and the personalities that continue to create conflict among us," Johnson said. The broad field of psychology also allows him to bring along his background and interest in theology.
So, he transferred to SNHU.
While there, he stayed true to his mission to help others. It made quite an impression on Dr. Thomas MacCarty, the associate dean of social science programs at SNHU and Johnson's instructor for a Motivation in the Workplace course last year. "What truly stood out to me was his open-mindedness and his willingness to share his own experiences," MacCarty said. "He wanted to be the best student possible for himself but also shared … himself to help others."
Throughout his program, Johnson combined his growing knowledge and skills to develop multiple research proposals. One, which came out of a research methods class, related to how stressors on African-American women can lead to preeclampsia, infant mortality and miscarriages. His capstone project looked into "oppression-induced dysthymia and how violence can be a cathartic response to oppression and depression in African Americans," he said.
Jessica Lewis, the academic advisor who supported him throughout his program, said Johnson pushed himself to excel as an independent learner. As he worked on his degree, he also established a nonprofit, served as the first African-American editor of an APA division newsletter and was invited to speak at the APA Convention.
"I'm proud of him for persisting, even when faced with adversity," Lewis said. "His accomplishments outside the classroom further underscore his desire to exceed expectations."
He did this all while raising a young family. "My wife and three children are my driving force," Johnson said. "I will be what I was destined to become because of them." Having children inspired Johnson to return to school—to set an example for them.
A Nonprofit for Peace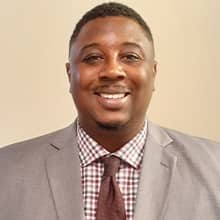 An essay Johnson wrote for a psychology class was the impetus for his nonprofit organization, The Path: An Agent of Change, Inc. Motivated in part by his wife's experience with preeclampsia, which led to the premature birth of their first child and 100 days in a neonatal intensive care unit, Johnson investigated the healthcare disparities in the African-American race.
Soon after writing the essay, he submitted an idea for a nonprofit dedicated to ending racism and bigotry to the National Society of Leadership and Success (NSLS). Out of 100 participants vying for NSLS's United by Purpose Grant, he placed second and received funding to launch the organization.
"My goal was to use psychology to make tangible solutions. I realized that this was evident in my own life, where psychology helped me navigate through obstacles, racism and potential unintended outcomes," Johnson said. "Racism is a mental illness, and therefore, it is healable. I dedicate my education to healing society from the things that tear us apart. That's why my nonprofit exists."
Much of his work involves bringing people with different perspectives together for a conversation that tries to answer: How can we get along? "We cultivate tangible, equity-based solutions by using design thinking, project management and psychology," he said.
Experience at the APA
While an editor for the "Peace Psychologist" newsletter for the APA Division, Society for the Study of Peace, Conflict and Violence, Johnson was asked by his chief editor to speak on two panels during the 2022 APA Convention:
Giving Voice Through Peace Journalism – Three "Hows" and a "What" for Ethically Disseminating News
Amplifying Underrepresented Voices and Perspectives in Peace Journalism: Part 2
The second one, in particular, allowed Johnson to present a topic near and dear to his nonprofit: the cultivation of peace through voice and perspective.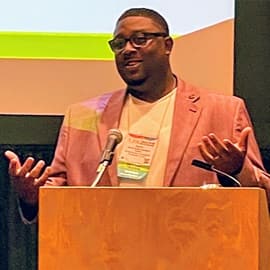 Through his presentations, Johnson discussed the intersection of psychology, journalism and DEI initiatives. Among other topics, he called for removing "unpeaceful adjectives from the narrative" and talked about the importance of respecting the individual realities everyone lives in and the narratives that accompany them.
"It felt good to know that my voice was valued and wanted," he said about being asked to present. "However, I was anxious while wondering if my message would be received well."
It was. One of Johnson's takeaways from the experience was just how genuine his audience was as well as their honesty.
"He has great potential and is living up to it," said MacCarty. "I believe the sky is the limit for him."
With a master's degree in hand and the experience of presenting at the APA Convention, Johnson plans to continue working on his organization while also earning a Doctor of Philosophy (PhD) degree.
"Hopefully, this speaking engagement will become one of many," Johnson said. "I want to heal the world from the things that divide us. I use this credibility coupled with my education, experience and abilities to promote this message: We can design a future that includes us all."
Rebecca LeBoeuf '18 is a writer at Southern New Hampshire University. Connect with her on LinkedIn.