Top 10 Media Buying Agencies to Improve Your ROI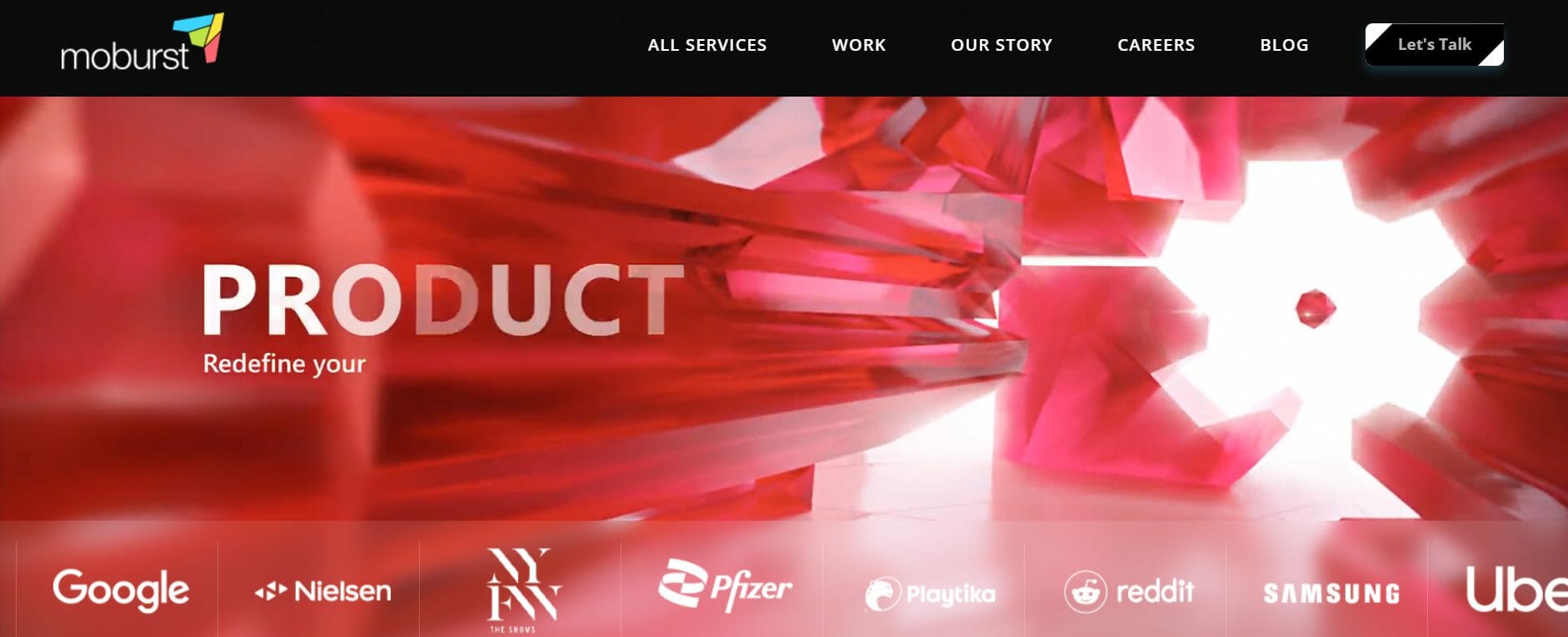 Trusted by major global names like Dunkin' Donuts, Pfizer, and Samsung, Moburst offers a wide range of digital marketing services including media buying. One of the advantages of working with them is that thanks to their international presence, you can get priority support from all the main platforms as their global team works with each of the major social and search giants. They're especially a good choice if you want to leverage TikTok, Instagram, Snapchat, or Facebook as their social media marketing pros work very closely with their partners at these platforms. In addition to these channels, they also have the skill and connections to help with Twitter and Pinterest. 
To help you launch a successful campaign, they follow a four-step process. First, they'll create a customized media plan by keeping in mind your brand, industry, and target audience. Included in your plan are platform suggestions and recommendations for how to budget accordingly. With the help of their own proprietary tech, they'll also help with keyword research. After they've built the media plan, they'll also pay attention to competitor analysis, optimization, and reporting.
If you prefer to advertise on app stores than the web, they've also achieved results with this approach. Alternatively, they're more than willing simply to work with and enhance your in-house team in charge of search operations. 
Key services include:
App marketing

Social media management

Email marketing

Influencer marketing

Localization

Product consulting

Moburst is a digital full-service, mobile-first marketing agency that helps companies to scale and become category leaders. We love solving the clients' tough digital challenges and firmly believe t…
---

EXL Media is a full-service media agency and certified woman-owned business that's based in Nevada. Founded in 1994, they bring years of experience to the table and are listed as the highest ranked media buying agency on Clutch. 
Unlike some of the other agencies on our list that offer various other marketing services, their team specializes in media buying and planning. Services included in their media buying checklist are creative direction, audience composition, fraud detection, and timely tracking. 
Transparency is at the core of what they do. With the help of top monitoring and analytics tools, they'll continuously analyze your campaigns and work with you to create custom reports and dashboards that you can use to evaluate the effectiveness of your campaigns. 
Key services include:
Past performance audits

Budget forecasting and allocation

Consumer profiling and personas

Consultation
---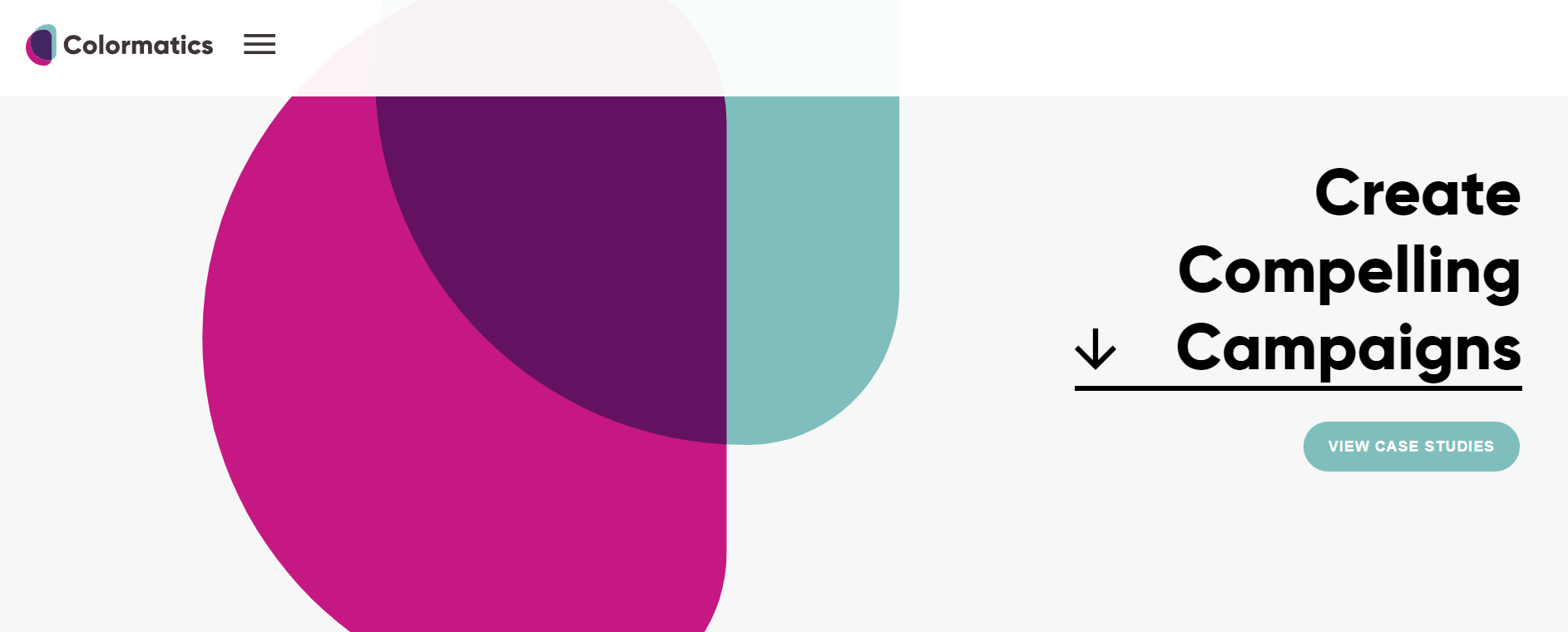 Colormatics is a full-service visual agency that has a number of offices across the United States. According to their business website, they "combine the strategy of an advertising agency with the capability of a video production company". 
While they focus on visuals, they can also help with media strategy. In addition to their list of other skills, they also have expertise in media buying and placement to help you make the most of your advertising spend. In fact, they have no issue calling themselves "media nerds". They continuously review the data and implement their proprietary analytics methodology to customize your campaign for the maximum effectiveness. 
For example, for Fiverr they created and deployed various TV spots. The result — more than 150 million impressions nationally. 
Key services include:
---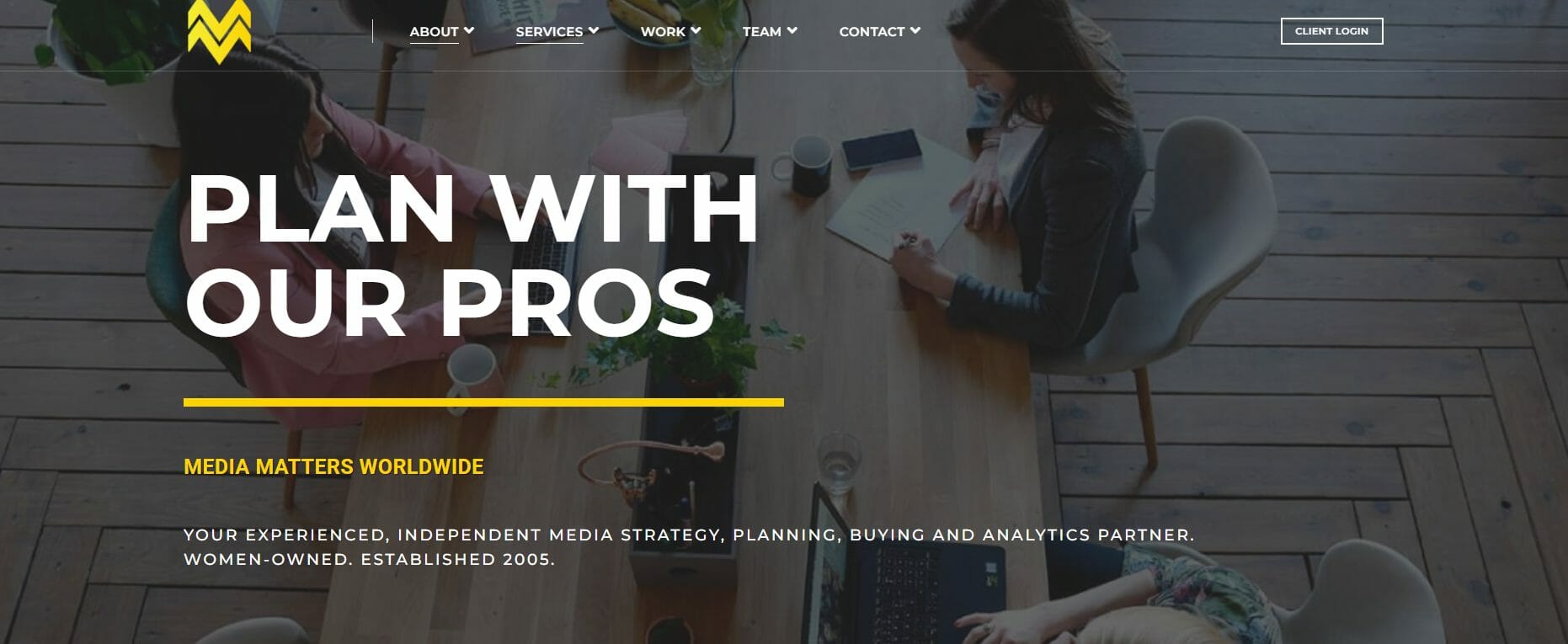 Founded in 2005, Media Matters Worldwide (MMWW) is an independent, women-owned agency that offers a full suite of integrated media planning and buying services. Their team of digital and traditional strategists have worked with a number of leading B2C and B2B clients across various industries and their client list includes names like Google, Glassdoor, and Blockchain. 
From strategy to analytics, and everything in between, they can basically do it all. They describe their approach as "audience-first, data-driven, client-centric, and people-first". Not only do they make sure to pay attention to the human aspect, but they also realize the importance of science (hence, the data-driven part) and have seriously invested in their in-house tech stack. 
Whether your audience needs to be reached via print and direct mail or online, their team has the required expertise and experience and can buy and plan advertising space across various channels.
Key services include:
Audience development and strategy

Budget analysis and recommendations

Analytics

Data visualization

Dynamic creative solutions
---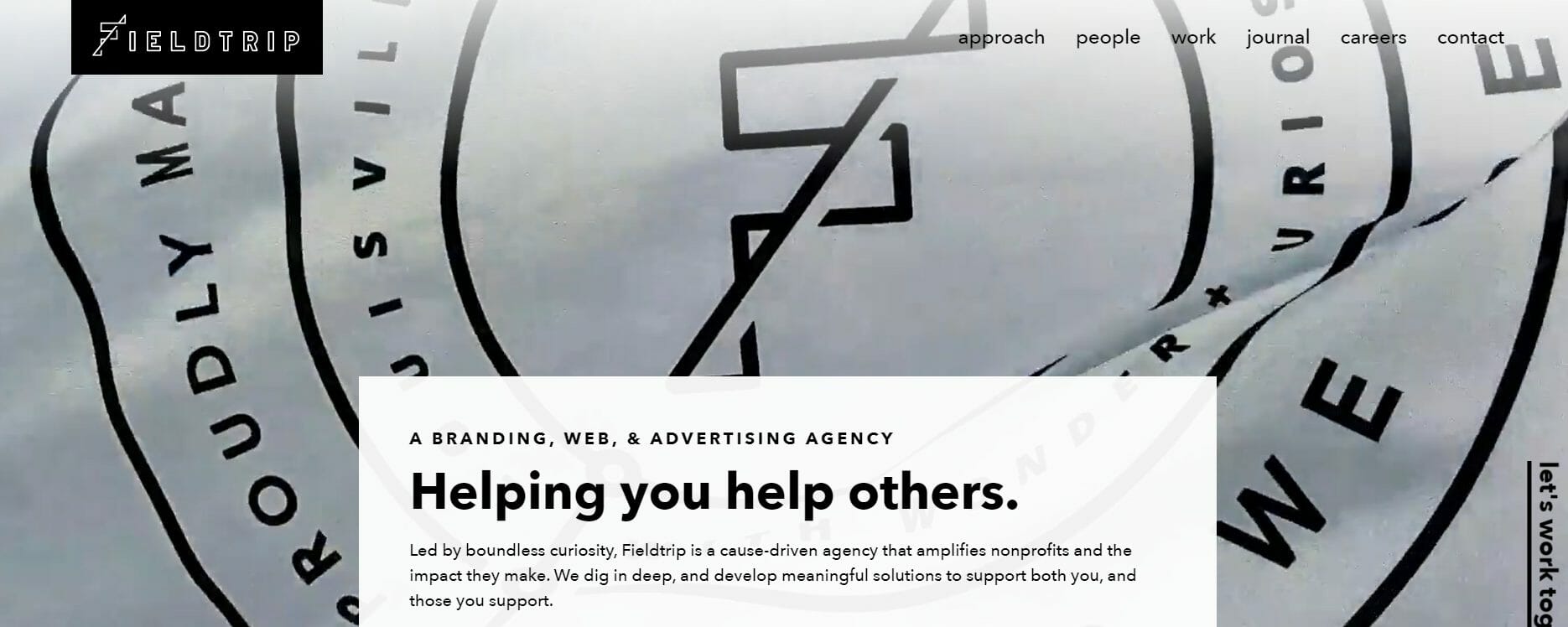 If you're a non-profit organization, you can check out Fieldtrip that's headquartered in Louisville, Kentucky. They describe themselves as a "cause-driven agency". When it comes to marketing, they use a holistic approach by letting the bigger picture guide them. Yet, that doesn't prevent them from zooming in on all the different touchpoints of the customer journey. 
In addition to traditional and digital media planning and buying, they also offer a wide range of marketing-related services and can also help with branding and web design. Some of the organizations that they've worked with include the National Stem Cell Foundation, Louisville Ballet, and Louisville Catholic Schools. 
Key services include:
Consumer research

Brand strategy and positioning

App design and development

Website design and development

Digital marketing

Campaign development and management
---
Kiosk was founded in 2004 and has offices in the United States and the United Kingdom. They describe themselves as experts in bringing marketing activities across organizations together. Some of the clients that they've helped to create huge success for include the University of Washington, Paylocity, and Stanford Graduate School of Business. 
When it comes to media buying, they've been mentioned by Clutch as one of the top companies. They have the skills to help you grow your business, while optimizing your spending at the same time. 
Key services include:
Media strategy and planning

Search engine marketing

(SEM)

Paid social advertising

Brand development

Content strategy and planning
---

Cutwater is an independent, full-service media and creative agency that's headquartered in San Francisco and has another office in New York. According to their website, their superpower is to build new brands and reinvent existing ones. They do this by uncovering a brand's truth and goal and communicating it in a simple, yet unique, way. 
Everything starts with what they like to call a growth hypothesis. During this step, they identify behavioral economics and cultural insights that can be used to improve their clients' positioning.  
Some of the brands that they've worked with include Levi's, Jeep, and Google. For example, they helped Google to convince advertisers to spend their budget on Google mobile search too. To help convince marketers to invest in mobile search ads, they introduced intent-rich moments (aka "micro-moments") — a term that ended up becoming common marketing speak. 
In addition to media planning and buying, they can also help with various other media-related services that include SEM, analytics, data visualization, and budget analysis. 
Key services include:
Campaign development

Content development

Social content strategy

Influencer marketing

Marketing research
---
Founded in 2003, Noble Studios is a creative digital performance marketing agency that's headquartered in Nevada. Unlike some of the other agencies on our list, they work with only a handful of industries that include travel and tourism, B2B, and health and wellness. These are the topics that they're most passionate about and they believe that by sharing a common cause they're better equipped to create meaningful connections. 
Included in their long list of services is paid media marketing. By combining strategic planning, powerful creative, and sophisticated tech skills, they can make the most of Google's algorithm to help you reach your target audience, while distinguishing your business from its competitors. 
From strategy to ongoing account management to reporting and everything in between, they can help with various aspects of paid search. They also work across all the main display networks that include Facebook, Google, and Amazon. With the help of cutting-edge artificial intelligence and machine learning technology, they can automate the bidding process on ad inventory in real time. Their clients, which include names like Adobe and Autodesk, have praised them for their professionalism and boldness to be innovative. 
Key services include:
Brand strategy

Conversion rate optimization (CRO)

Web design and development

Content marketing

Paid media marketing
---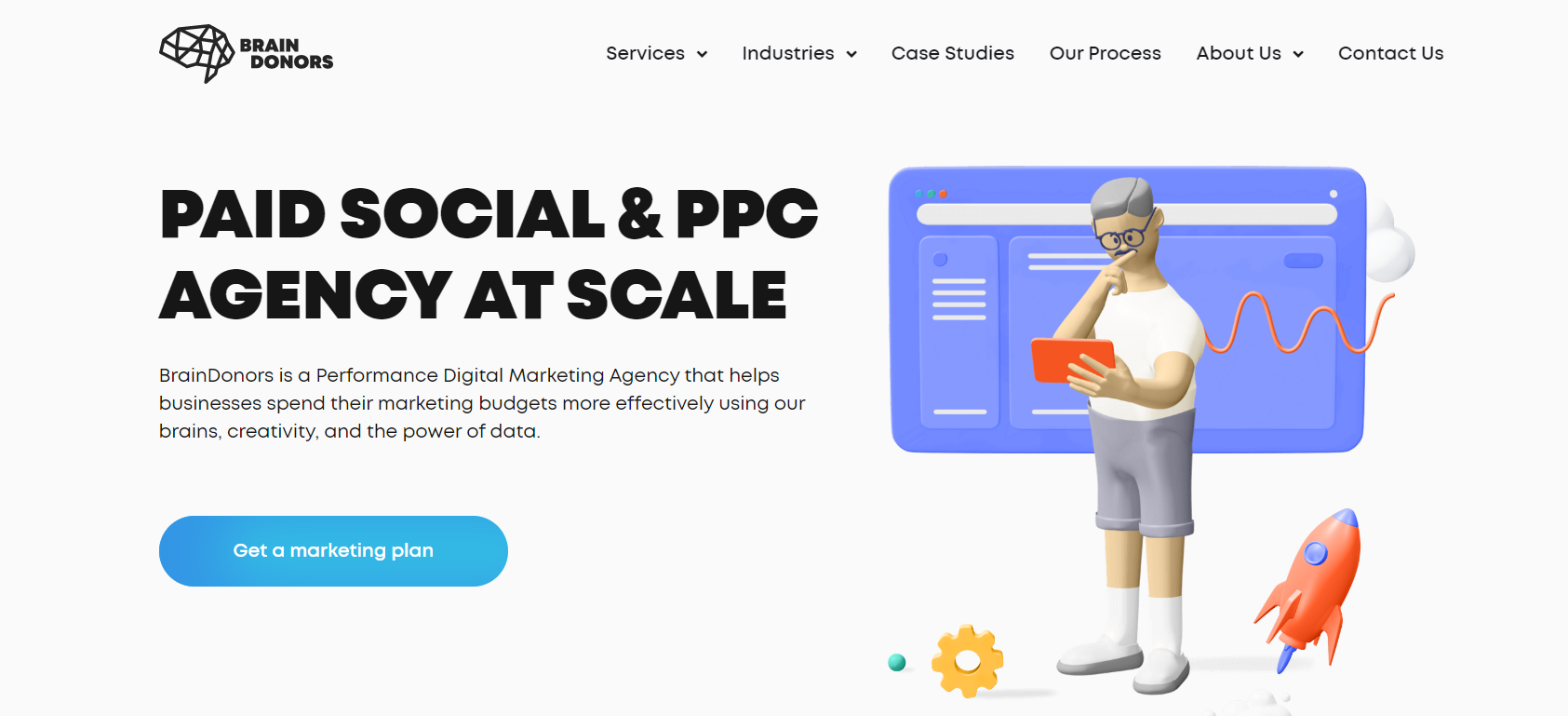 With offices in the Netherlands and Bulgaria, BrainDonors is a performance digital marketing agency that covers all the main digital and social channels. Similarly to Noble Studios, they also service only select industries which include eCommerce, real estate, SaaS, tech, and startups. Founded only in 2019, they're one of the younger agencies but have already made a name for themselves by working with leading brands like Philips, Henkel, and ERA Real Estate. 
Their team of certified experts uses a six-step approach to boost the efficiency of your campaigns and decrease your cost per acquisition (CPA). As their team is experienced at integrating and using data for precise targeting, they're perfectly positioned to implement daily testing and optimization. 
The results that they've achieved speak for themselves. For some of their clients they've helped to decrease the cost per lead by as much as 80%, while also increasing the number of new leads by more than 300%. 
Key services include:
Facebook and Instagram Ads

Google Ads

Email marketing

Content creation
---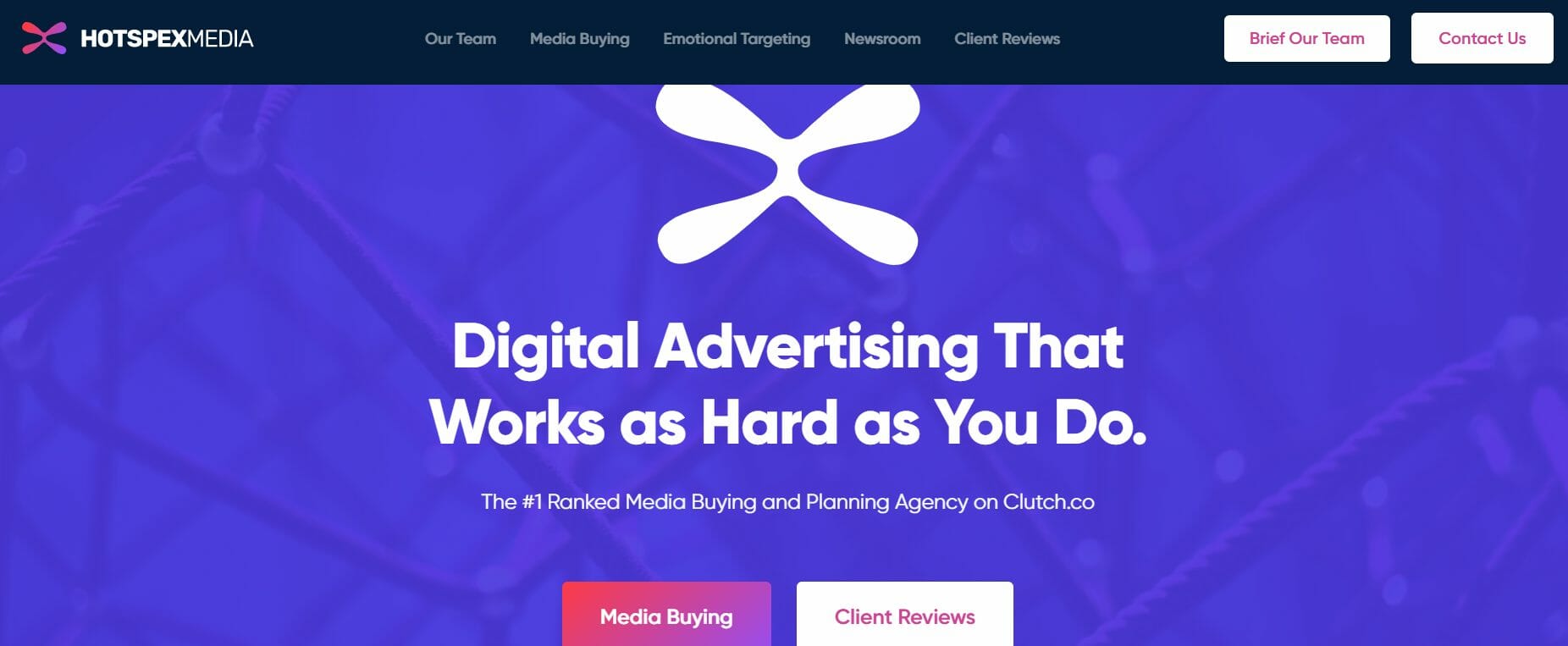 Headquartered in Toronto, Hotspex Media's team of brand builders and strategic media planners have worked with a number of leading global brands that include names like Under Armour, Panasonic, and The Home Depot. On Clutch, they're also one of the most-reviewed media buying agencies and their clients have praised them for their knowledge, dogged determination, and collaborative approach. 
Their main focus areas are media buying and emotional targeting. When it comes to their media planning and buying services, they can manage your ad buying across most platforms that include YouTube, Microsoft, and the leading social media platforms. They also support a number of top tools enabling them to give you several, key metrics. 
Key services include:
Conversion tracking

Media optimization

Brand strategy research

Concept design and optimization
---